The Edge
September 1, 2015 marks the launch of the newly named "Edge Mutual Insurance Company". It's an exciting transition for the company since the new brand is far more than a fresh look. It coincides with a number of exciting changes including a new and strengthened leadership team, a building expansion that will double the size of the facility, and several new operational developments geared to improving customer experience.

You've always had an edge, it's just not a secret any more!
How we started over 125 years ago
On April 28, 1887 a number of farmers from Peel and Maryborough Townships met in the Temperance Hall in Drayton. The purpose of the meeting was to arrange for insuring their farm properties against losses due to fire and lightning.
Out of this meeting, the Peel and Maryborough Mutual Fire Insurance Company was formed. The head office was established in Drayton with a fifteen member board of directors. Initially, the company only insured properties in the named townships. At the first annual meeting the board was reduced to twelve and a decision was made to insure properties in areas adjacent to Peel and Maryborough.
Over the years the company has greatly expanded its geographical area, coverages written and risks assumed. Loss experience has varied from year to year but the Peel Maryborough Mutual Insurance Company has always been financially secure and able to meet its obligations to its owners, the policyholders.
In the initial years, the company conducted business from a rented premises. A building was purchased in 1902 and eventually a more modern office was built in 1979. The current, modern building was contructed in 1991 and despite a minor fire in 2001, has served the company well.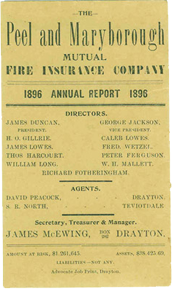 The Changing Times
Picture right is our 1896 Annual Report. It was printed on a thick card stock and distributed by the Post Master. Today we offer web-based services and our policyholders have the option to even pay by credit card online!
What We Are Today
Edge Mutual Insurance Company is located in a modern office facility at 103 Wellington Street South in Drayton, Ontario. An experienced staff of over 30 employees provides complete insurance service to our policyholders. Written premiums are in excess of $40 million.
Edge Mutual provides financial security to our policyholders with current surplus levels approaching $33 million. A complete range of insurance products are provided through an independent broker network. Many of our Broker partners have been associated with us for a number of years. A knowledgeable management team administer the day to day functions of the Mutual under the guidance of a 9 person Board of Directors. The board consists of prominent farmers and business people elected and re-elected for three year terms. Many of our board members have been policyholders for a number of years.
We continue to develop leading products and innovative tools that are well suited to brokers serving the rural marketplace.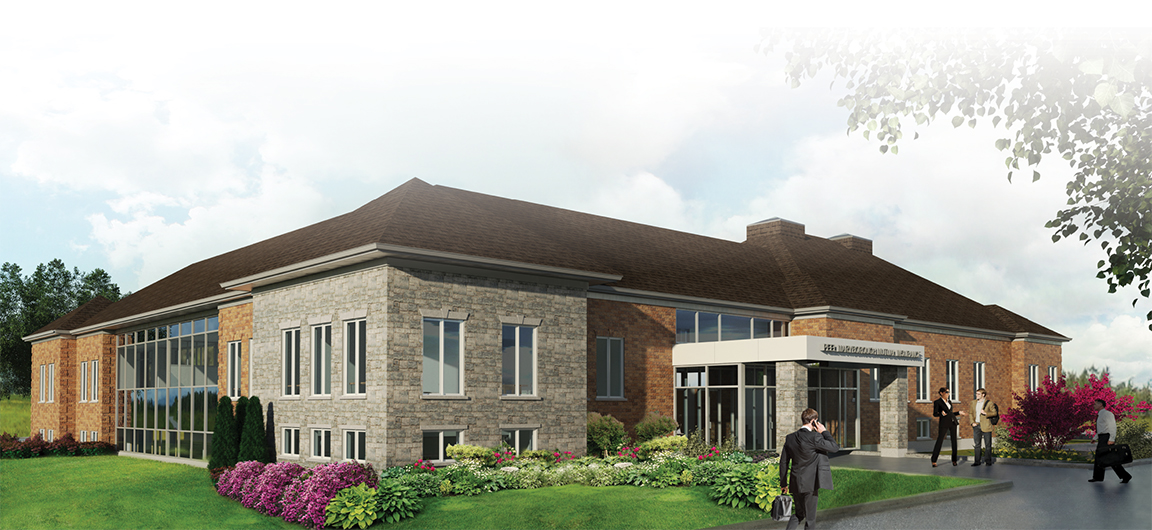 The Mutual Edge in Edge Mutual
What's the difference between mutual insurance and other insurance?
For almost 160 years, Ontario mutual insurance companies have been – and still are – about people coming together to protect themselves in a common need. Because there are no stockholders in a mutual insurance company, the interests of the policyholders are always a priority.
Small, but mighty.
Ontario Mutuals are more than 40 independent insurance companies that grew in the small towns and rural areas that form the backbone of our province. But don't let our small size fool you. Together, we represent one of the strongest, most secure financial networks in the world.
Rooted in your community, we've sheltered generations.
The spirit of mutual insurance is woven into the fabric of every community. It's the spirit of coming together for the greater good. While many of our member companies began as farm mutuals in the mid 1800s, today we offer a full range of home, auto, commercial and farm insurance tailored to protect you and your family.
Premiums stay where they do the most good — in your community.
With Mutuals, premiums stay in the community, employing neighbours, supporting the local economy and giving back. We invest in local projects and support what matters most to our policyholders. We've been buying local for generations, and community spirit has been part of our style for nearly 160 years.
You're more than a policyholder, you have a voice. Let it be heard.
When you buy a policy, you automatically become a member of that company. That means you have a voice in important issues like electing a board of directors at the annual meeting.
We're people-centred, not call-centred.
You will always be treated like a person, not a number. Whenever you have a question or a claim, someone you know and trust will be right there to help. It's not the way every insurance company does business, but it's the Mutuals way.



CLICK HERE TO LEARN MORE ABOUT THE MUTUAL DIFFERENCE!